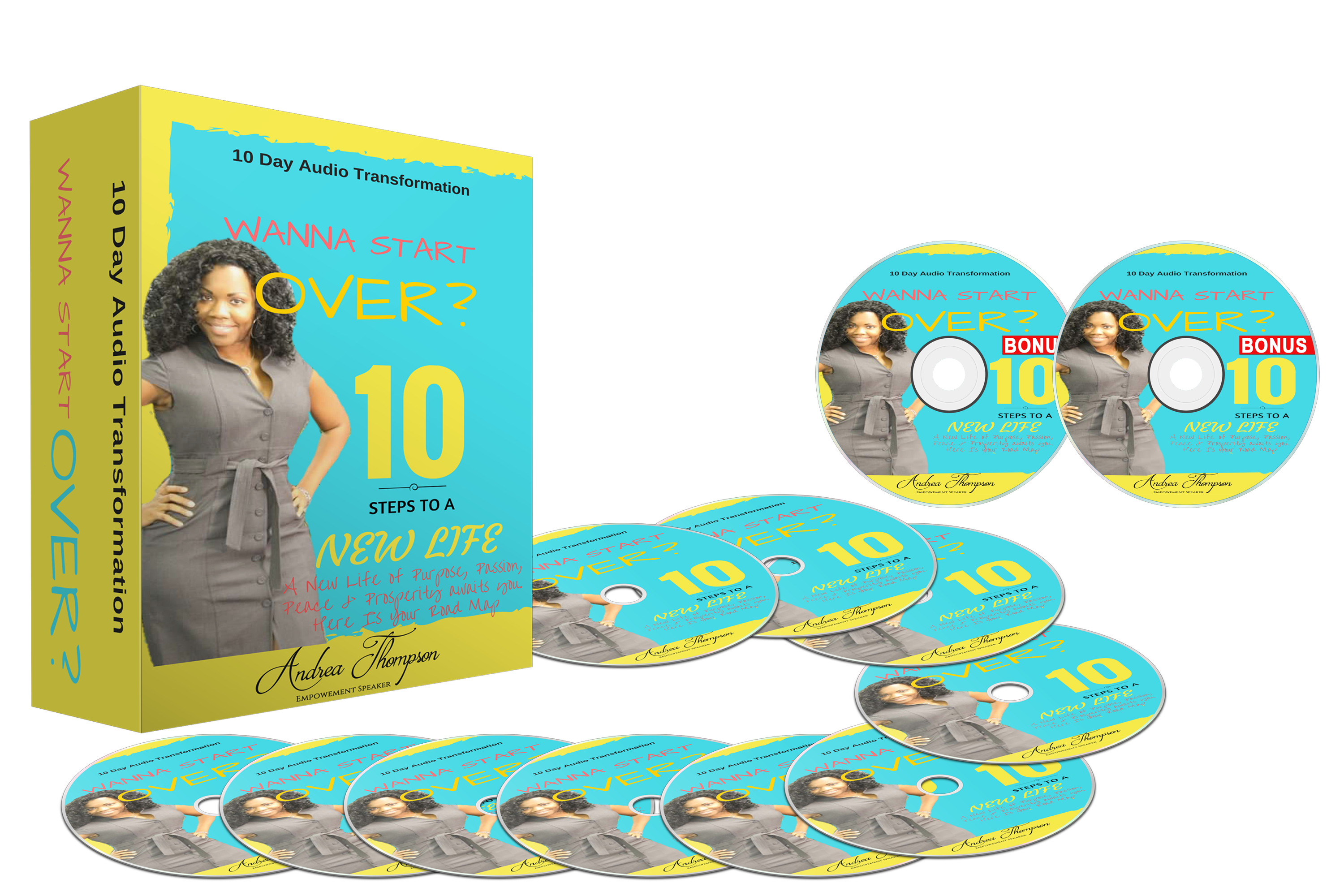 A New Life of Passion, Purpose, Prosperity & Peace Awaits You, Here is Your Road-Map
Total 10-day Audio Transformation Downloadable set,  2 Added Bonus Audio Selections & Mentorship Training from one of the most sought after trainers, Lifetime Access from any device
10 Steps To A New Life Audio Set Includes:
Lifetime Access
Introduction

Day 1: You Are Your Own Rescue

Day 2: It Is All Possible

Day 3: Moving into the Unknown

Day 4: Innovation Is Key to Transformation

Day 5: Attack Your Fears

Day 6: Everything You Need is Within Arms Reach

Day 7: Strategy

Day 8: Certainty in You Calling

Day 9: The World is Waiting for What You have Locked Inside You

Day 10 Bonus (Life's Necessary Push)

Additional Bonus!!! (It Will All be Worth the Sacrifice) Choose Any day to Listen to this.
What Our Customers Are Saying
Don't just take it from us, let our customers do the talking!
"Andrea is one of, if not the most energetic, focused and inspirational people I have ever heard! I have been getting her teachings for years now and it has made a massive influence on my career. She is tremendously supportive and challenging in equal measures. Andrea is "way ahead" of most people when it comes to self-development, a great leader and a brilliant coach "
"Serveral of my friends and I have taken up courses set up by Andrea and we only have great things to say. Andrea puts together a very clear and easy to follow course which leads has lead to real end results, she's very practical, relatable and transparent in her teachings. This training has been great for my friends and thier friends alike. I have found her always helpful and would recommend her withoug any hesitation"
"This training was very interesting. I am a passive person, i've learned ways to tackle that now. I liked the fact that the trainor was empathetic and extremely transparent. I found this audio very helpful, I would listen while at the gym, doing laundry and on my way to work. Andrea's teachings has really gotten me to see opportunity different than i've ever seen it. I'm finally beginning to see my own strenght. I've been in abusive situations before and i've always thought that life dealt me a bad hand, but not anymore. After this training "which i've listened to over and over" I finally feel like a New life is waiting for me, and i'm going to go get it."
Let's Begin Your 10 Day Transformation
Frequently Asked Questions
Will I have Immediate Access to this Product?
Yes, Immediately after purchase, you will be given access to the Online Portal.
What is your refund policy?
We offer no-questions-asked refunds within 30 days of your purchase. If you are not satisfied with our product, then simply send us an email and we will refund your purchase right away. Our goal has always been to create a happy, thriving community. If you are not thrilled with the product or are not enjoying the experience, then we have no interest in forcing you to stay an unhappy member.
Will this product be mailed to me?
No, The entire 10 segment audio set is available for listen and/or download immediately after purchase. You will not be mailed this product however, you will have lifetime access from any of your devices.
Who is this 10-day transformation for?
Anyone that wants to begin again but this time living with Passion, Purpose, Prosperity & Peace.